Periodic leak tester calibration or having a service and calibration contract makes good sense. As part of our comprehensive line of services, we offer calibration for all our leak testing devices. Our factory-trained technicians will give your equipment a thorough examination to ensure it is calibrated to the same standard as when it left the factory.
New Environmentally Controlled Calibration Lab
Uson is pleased to announce the opening of our new environmentally controlled Leak Master and Transducer Calibration Laboratory. The new lab is located at our headquarters in Houston, Texas (USA).
To our global customers, we wanted to provide an efficient, accurate and traceable calibration product and process. We like to call it the Gold Standard in Leak Masters. Our calibration lab and the equipment needed to be world-class to match our reputation of being a manufacturer of premium quality leak testing equipment.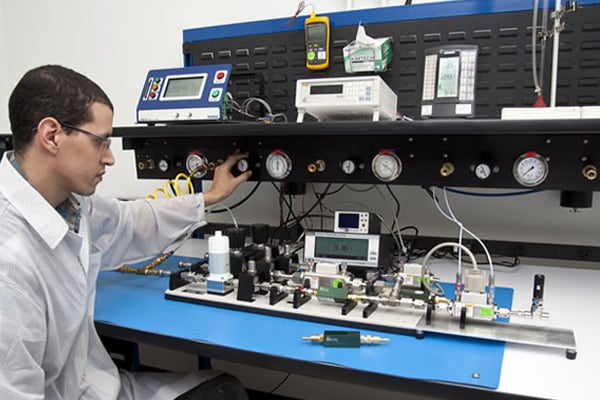 Highlights of New Calibration Lab:
170 sq. ft. fully controlled environment lab with its own dedicated HVAC

The pressure inside the lab is maintained at a constant level of 0.6 inches water(0.15 kPa, 0.044 in. Hg or 0.0217 Psi)

Water manometer that is more sensitive to the smallest atmospheric change that most other equipment would consider noise

Digital temperature and humidity gauges

Fluke's malbloc-L Laminar Flow Element (LFE)

COMPASS Pressure Calibration software also from Fluke(This will print out the calibration results that will be attached to every leak tester shipped by Uson)

Extensive training from Fluke on the Molbloc System

Other significant upgrades include: improved lighting, new ergonomic work bench and seating, new Parker 0,1 particulate test air filtration, new Parker coalescing test air drier and new instrument grade pressure regulators