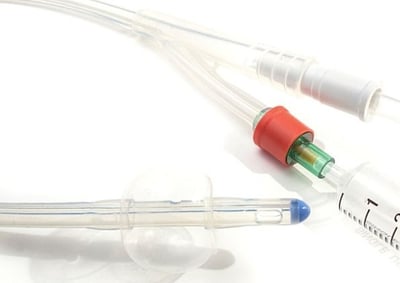 CHALLENGE
Catheters are used to diagnose and treat many different medical conditions. This creates a need for a wide range of catheter designs. As such, catheter leak testing is critical to ensure safety and reliability. However, due to the range of tests that must be completed, this process can be lengthy and challenging. Multi-lumen catheters, for example, are intended for multiple configurations, and might be used for concurrent treatments that might include hemodialysis, pacing drug delivery, CVC, PICC, and more.
Manufacturers of multi-lumen catheters face a demanding task during the quality testing process. Many regulatory bodies, including the FDA in the United States, require leak testers to check each lumen in the catheter to make certain nothing leaks. Each passageway must also be tested for possible blockage or partial occlusion.
Added to these concerns, the tester must be cost-effective so numerous stations can be implemented for increased production output. This requirement has led some manufacturers to custom-build catheter testers in-house, assembling them from computers and various measuring equipment, so that they often become an unmanageable collection of difficult-to-operate and difficult-to-maintain components.
SOLUTION
Uson's Sprint mD leak tester is designed specifically to meet the challenges of medical device manufacturers, and is ideal for catheter leak testing. It can be configured as a four-channel sequential tester incorporating everything needed to test multi-lumen catheters for leakage and occlusion. The instrument checks for leaks in fittings, leaks through the outside catheter wall, inter-lumen leaks, and occlusion with each lumen.
When testing one lumen, all other lumens are opened to atmosphere through Sprint mD's 3-way valves. This makes it possible to test leakage between adjacent passages in the catheter. Sprint mD catheter testers cost much less than a custom array of separate instruments, so users can install multiple stations to increase throughput.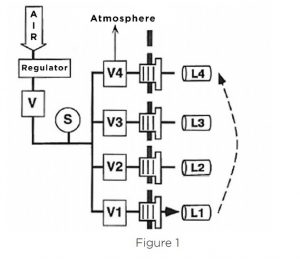 How Sprint mD Works
The Sprint mD catheter tester works like this:
The product is attached to each test port (Figure 1) and the Sprint mD test program is started.
The distal end of the catheter is sealed to block skives and other openings (Figure 2).
Air is supplied at test pressure to Sprint mD's output port through valve V1. Valves V2, V3 and V4 are opened to atmosphere.
The first lumen, L1, is leak tested. If the other lumen leaks to the outside or to any other lumen (shown in the example to lumen 4), Sprint mD detects the leak.
Each additional lumen (L2 through L4) is leak tested in sequence.
After leak testing, the sealing clamp can be removed from the catheter and Sprint mD can check each lumen for occlusion.
Clamping
To leak test a finished catheter, the opening in the distal end is typically closed off with an external sealing fixture. The catheter can then be checked for inter-lumen leaks. See Figure 2.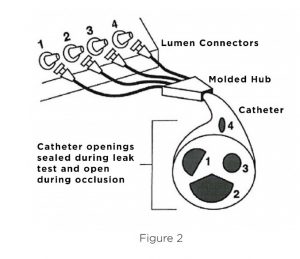 Occlusion Test
Occlusion tests can be performed individually after each lumen is leak tested, or all at once after all lumens have been tested. When testing for occlusion, the sealing device is removed from the catheter to allow the lumen to flow to atmosphere. During an occlusion test, Sprint mD looks for the pressure to drop below a preset threshold to verify that the passage is not blocked.
Sprint mD can be set up to test in any sequence by linking individual pressure decay and occlusion programs.
Applications
The Sprint mD 4-Channel sequential tester is ideal for evaluating multi-lumen catheters. The tester can also check any product that has multiple parts or multiple passages (up to four) that can be tested in sequence. In addition, the Sprint mD 4-channel sequential tester can be used to test as many as four individual products in sequence.
To test catheters with fewer lumens, Sprint mD models are available also in two- and three-channel configurations. We invite you to call Uson to discuss how a Sprint mD tester can be applied to your specific testing needs.
Sprint mD Features
Accommodates a wide range of multifunctional testing
Offers a fast cycle time and simple programming to facilitate maximum production throughput
Performs both integrity and performance tests in a single instrument, which makes scaling operations less daunting
Configurable per customer requirements for many test combinations and up to five test types
Logs and monitors changes to parameters to achieve compliance with industry regulations
Identifies process degradation and helps to reduce transcription errors
Collects, archives, and reports data, making it easier to handle changes
Permits access through individual passwords and roles.